Shopping Cart
Your Cart is Empty
There was an error with PayPal
Click here to try again
Thank you for your business!
You should be receiving an order confirmation from Paypal shortly.
Exit Shopping Cart
Proud Affliate of
To shop Bridal Hair and makeup looks and accesories please visit www.HairComesTheBride.com
| | |
| --- | --- |
| Posted by Margarita Potts on February 9, 2010 at 9:50 AM | |
Today's installment: Do-it-yourself brush cleaning.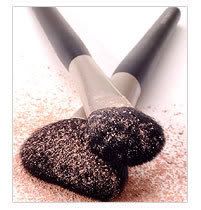 If you're making an investment in high-quality tools, then it's important that you know the correct way to maintain them. Though people don't often think to wash their make-up brushes, it's very important that you keep them clean, because they harbor lots of dirt and bacteria, which can cause breakouts and make your make-up go on clumpy. Ewe YUCK
Ideally, you should wash any brush that you use for liquid make-up (including concealer, foundation, lip products, cream shadows, and so on) after each use!
For brushes used with powder, clean them every two weeks.
For tips on how to properly clean your brushes, read more
Gently run your make-up brushes under lukewarm water. Swish them around in the sink until the water runs clear. Hold the brush under the water with the handle pointing up so that you don't irreparably damage the brush.
Add a small amount of mild shampoo or GENTLE handwashing detergent like Wool Light (I LUV Victoria's secret Lavish Laundry mmmmm) to the palm of your hard and swish your brush around in your hand and then under the water.
*Keep in mind that natural bristle brushes need gentler soaps.
Rinse your hand and the brush thoroughly, then wring out the water from the brush. To retain the shape of the brush hair, gently squeeze to remove all traces of soap and water and place them so they can dry flat on a clean dry towel.
PRO TIP:
When working on movie sets and shows I sanitize using 91% alcohol (from a spray or pump type bottle) in between each client - to kill any bacteria before working on next actor or model. Simply spray or pump sanitizer onto brush and lint free paper towel. Then use quick back-n-forth-paint-like-strokes on paper towel to disenfect and dry your brushes quickly.
| | |
| --- | --- |
| Posted by Margarita Potts on July 3, 2009 at 2:21 AM | |
With over a decade of experience Margarita brings to you professionalism, talent, and flawless Makeup coverage!
Whether you are in need of a Make Up Artist for Photoshoots, Television, Movies, Special Occassions, Weddings, or simple Personal Indulgence with Margarita you know you are getting the best service, product, experience, personality, and more!

Side Note: When choosing a Make Up Artist remember you get what you pay for. Beware of "new Make Up Artist" claiming to be professionals when they do not have the experience, credentials, and talent that you are looking for. Now many photos can be photoshopped and altered to give the illusion that the Artistt had flawless work. However know that with Margarita you are getting the REAL deal!!
/